Well, I'm way behind where I'd like to be, but I'm pretty sure I'll still get in a couple months travel time this winter.  It also occurs to me that I haven't been as comprehensive as I had planned on being, so here's what's going on with the big build….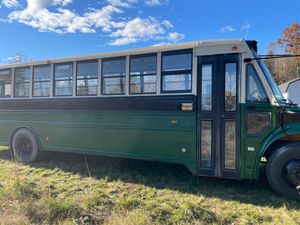 I had a minor mechanical issue with an oxygen sensor that cost more than I'd have liked to replace, but I think we're now in good shape. The exterior is mostly painted with a hunter green lower and almond top, with a black line between.  This space will be filled with a matte gold knotwork pattern.  I'm not really liking the vinyl design I'd cut- It's too small and detailed, and gets lost at a distance.  So I think I'm going to cut a stencil for a simpler weave pattern. 
Inside, I'm getting the subfloor down.  It's 1x2 lumber in a 16" grid, topped with OSB.  I had originally planned to do foam insulation inside of the grid squares, but opted instead for something more open to help avoid moisture issues.  The air gap will provide at least a little insulation on it's own.  Over that will be a nice hardwood laminate for the living and bedroom areas, off-white vinyl in the kitchen and bathroom, and an industrial carpeting for the front couple feet and steps that should catch most of the dirt before it gets tracked in. 
I've also ordered all the major components for the plumbing system- Water tanks, pump and pressure tank, tankless water heater, filter, and heating pads to keep the holding tanks liquid if I end up in a sub-freezing climate.  For the bathroom, I've gone with a Separett Villa composting toilet, which should be both lower maintenance and more eco-friendly than a septic tank. 
Next step is framing out walls and furniture before I run the pipes and tubes for all that plumbing stuff. 
I've been doing the bulk of the work at the Port City Makerspace in Portsmouth NH, partly just for the space, but mostly for the facilities, and to no small measure, the community there.  I've met at least two people who are working on their own van conversions and loved seeing the setups they've gone with for solar and plumbing.  I've also been able to take classes on the laser cutter/engraver and CNC machines, which expands my capabilities for fabrication.  I'm hoping I can still get into the welding class, but it's extremely popular and fills up fast.  It's a great space, and they do public tours every Saturday afternoon if you feel like checking it out. 
Here are the components I went with (I get paid if you purchase through these Amazon links):